AV2HDR-T2
NOTE
This version of AV2HDR is for the Humax HDR-Fox T2 only, there is a different version for the Foxsat
Background
This utility enables video not created on the T2, to be imported with all the functionality provided in a native recording, It provides those "little extras" that people have come to expect from a PVR.
AV2HDR-T2 is not a video converter, Input videos must contain an mpeg2 or H264 video stream, and an mpeg1 layer 2 or AC3 audio stream, although the container type can vary i.e. ts, m2ts, mpg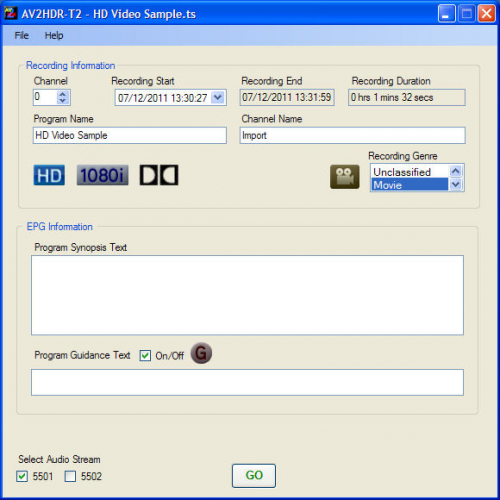 The Following features will be added to your Video file :-
Thumbnails
Program synopsis
Guidance text
Fast forward / Rewind
Resume from last position
Create Output files *.TS *.NTS *.HMT
Getting Started
A download link for Raydon's AV2HDR-T2 can be found at the bottom of the 'Customised Firmware - Features Available' page of the wiki HERE in the 'Miscellaneous Software Utilities' section.
The File needs to be 'Un Rar-ed' using Win-Rar or another Zip type program that handles rar files
The program runs on a Windows system with Microsoft .NET Framework 3.5 installed
The file drop-down menu, opens up a file browser to enable selection of the source video you wish to import. Alternatively, you can just drag and drop your source file anywhere in AV2HDR-T2's window
Acceptable input formats are as follows :-
SD Video 576 Width 720 pixels Height 576 pixels
HD Video 720 Width 1280 pixels Height 720 pixels
HD Video 1080 Width 1920 pixels Height 1080 pixels
Other sizes may possibly work. However, this is very much a case of trial and error. The above sizes are the only ones guaranteed to work.
Video format MPEG-2 or H264 H264 codec profile max High@L4 Aspect ratio 16/9. Scan type progressive or interlaced Frame rate 23.976, 25, or 29.97 frames per second.
Audio SD or HD MPEG1 layer 2 or Dolby AC3.
Supported containers for A/V streams are .TS .MTS .M2TS .MPG and .VOB. You can drag and drop your video anywhere in AV2HDR-T2's window. If the container format is supported it will display streams information. However, that does not guarantee playback on the HDR. The video and audio streams must also match the above specifications.
Note: Although HE-AAC is a native audio format on the T2, it is not supported by AV2HDR-T2 as the muxer used is not able to process it. Any sources containing AAC audio will be incorrectly remuxed as MPEG audio and will not playback correctly.
AV2HDR-T2 cannot, and never will, import other video formats such as .AVI .DIVX .WMV .MOV These must first be re-encoded to the above specifications using the software of your choice. There is an abundance of software re-encoders available for this purpose
Once a file has been selected, AV2HDR-T2 checks it for validity of type and content, after which it will display a pop-up window containing detailed information about the video and audio streams within the source file. The main window will also display informational icons regarding the sources video and audio streams.
Fields which can be edited are now enabled, and the imported video file name will appear in the title bar. This name is used as the program name, and the channel name is set to the default value of 'Import'. Channel number is set to zero, recording start date/time is set to the current date/time, and the genre is set to 'Movie' All of these entries can be edited as required. Also, there are fields for entering program synopsis text, plus 'Guidance' text if this option is enabled using the check box.
The start date/time information is also used by AV2HDR-T2 to extend the output file names, as per native T2 recording format. For example, if the recording start date and time is 31/09/2009 23:00:00, then mymovie.ts will create an output file named mymovie_20090931_2300.ts, plus the correspondingly named .nts and .hmt files.
Output files are saved in the same directory as the source by default, but a different output folder may be chosen via the drop-down menu.
The GO button which starts the creation process is enabled immediately after source file validation. Having said that, there is one exception to this. If the source video contains multiple audio streams, AV2HDR-T2 will display up to four check boxes for audio stream selection. The user must then select one of the audio streams before the GO button is enabled.
If you are in any doubt as to which audio stream to choose, you can refer to the source video information pop-up window. If you have already closed this window, it can be re-opened at any time via the drop-down menu.
Once you are happy with your edits, click the GO button to start the build process. A progress bar and status information will be displayed during each step of the build process. Clicking the STOP button at any time during the build will abort the process. Any complete, or part complete files will will remain and must be deleted manually.
Once AV2HDR-T2 completes it's task of building the files you can then exit the program.